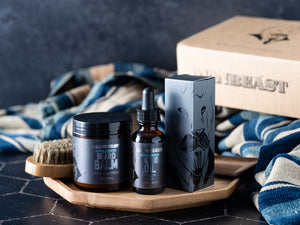 Nut-Free & All Natural
ManBeast Products are hand made from 100% natural plant extracts with no artificial additives.
No Synthetics, Preservatives, or Tree-Nuts
Made exclusively with seed-based oils and butters, ManBeast products are designed to eliminate the allergic reactions often associated with ingredients derived from tree-nuts.
Hypoallergenic Beard Oil
Our Premium Beard Oil is 100% Nut Free and designed to promote serious growth. This carefully balanced blend of seed-based oils will stimulate hair follicles, nourish your skin, and soften your beard.
Premium Beard Balm
Hypoallergenic and Nut-Free, our Premium Beard Balm provides a light hold that will keep your mane in check all day long. The perfect styling compliment to our nourishing Beard Oil.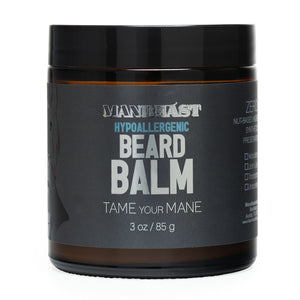 Hypoallergenic Products Geared Towards Growth
We're passionate about helping guys grow the best beards they possibly can. So our products are specially designed to eliminate issues that are so often responsible for men throwing in the towel when it comes to growing a beard:
Dry or Oily Skin or Hair
Excessive Itch or Irritation
Problems with Acne or Dandruff
Patchy, Uneven Growth
Our 100% seed-based grooming products will keep you looking tip-top all day. And because they're nut-free and hypoallergenic - you can quit worrying about allergies for yourself - or anyone you're close to.
Grooming Tools
The perfect tools to keep your A-game right at your fingertips - morning, noon, or night.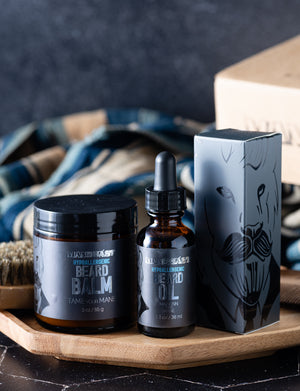 The Bearded Beast Blog
---
Growing a beard, or considering growing a beard, for the first time? Whether you're gearing up to grow for seasonal reasons (Movember, cooler weather, holidays, etc.) or you've just decided...
In this edition of Great Beards Throughout History, we honor to Ernest Hemingway - Nobel Laureate, Avid Sportsman, World Traveler, Master Beardsman.